RPAS and AI in Aviation – Six SESAR ER projects together to present their results
Six exploratory research projects financed by the SESAR Joint Undertaking programme are about to come together in a joint event to present the audience with the latest developments within the SESAR JU framework in two of the most promising aviation topics: Drones and Artificial Intelligence.
This in person event will take place in Rome (Italy) on 3-4 November, bringing together INVIRCAT, URClearED, SAFELAND, SafeOPS, Mahalo and Artimation, who researched these two topics in the last two years and a half.
Why these six projects in one joint event?
According to OPTICS and OPTICS2 projects' analysis – which investigated European aviation research to assess if it is on the right track towards Flightpath 2050 to provide recommendations to steer EU Aviation Safety and Security research – Remotely Piloted Aircraft Systems (RPAS) and Artificial Intelligence (AI) explainability are two of the hottest themes still to be explored in aviation.
In fact, as stated in the OPTICS2 "Final Safety and Security integrated recommendations" report published in 2021,
"Finding the right Human-AI partnerships will be key to future aviation safety. The Intelligent Assistant (IA) in the cockpit and on the ground will be the crucial stepping stone toward fuller Artificial Intelligence (AI) by 2050. Research is urgently needed to determine how humans and AIs can work together productively and safely, including human supervision and recovery in case of 'aberrant behaviour' by AI systems".
Also, the OPTICS Final Report "Is European Aviation Safety research delivering?" highlights that automated drones and UAM vehicles will have to rely on seamless integration of automated flight controls, thus providing another level of challenge for development and operation. In particular, the report notes,
"The integration of RPAS and drones into civil airspace needs urgent research, […] together with the development of a new CONOPS that accommodates the rapidity and scale of developments occurring with RPAS/UAS and their impending integration into airspace".
In the European exploratory research panorama, the almost completed SESAR 2020 programme has planned, financed, and disseminated research progress and results that are really worth highlighting.
This joint event will present six projects that enriched and contributed to SESAR's progress, marking great steps forward for the domain, both for drones and AI integration.
In particular, INVIRCAT, URClearED and Safeland will present their research activities and results focused on the RPAS integration in the civil air space on the event's opening day, November the 3rd.
SafeOPS, Mahalo and Artimation will instead show their ongoing research within the human – AI teaming in aviation framework, on November the 4th.
Who should attend
The RPAS and AI in Aviation event is open to everybody to attend. However, we address in particular a specific audience active in the fields of RPAS, AI and automation, and aviation-related activities. For example:
Regulators
U-Space and UAS related service providers
ATCOs
Pilots
Research and academia
Experts of Artificial Intelligence and automation
When, where and how to participate
The event will take place on the 3rd and 4th of November 2022, in Rome (Italy). The opening time is at 14:00 (CET) and the closing time is at 14:00 (CET) on the second day.
The hosting location is Centro Congressi Cavour, Via Cavour, 50/a, 00184 Rome (Italy), in the city centre and at walking distance from Termini Train Station.
Participation is free, but registration is needed: register now! Registration will close on the 28th of October EOB.
Agenda and keynote speakers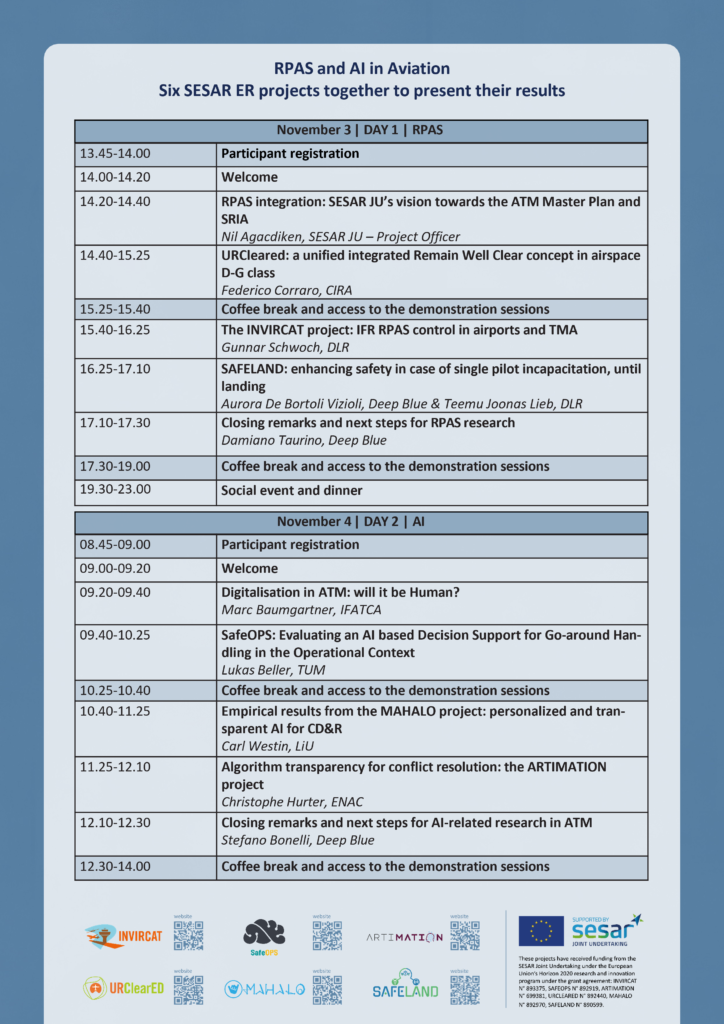 About the projects
This event is co-organised by the following projects:
Visit their websites for more information on each of them.