Five SESAR Joint Undertaking projects whose research focuses on Remotely Piloted Aircraft Systems (RPAS) have jointly participated in the SESAR Innovation Days 2021, of course including the URClearED project.
Read the full article to learn more and to watch the full video!
The RPAS projects collaboration panel
The RPAS Projects Collaboration Panel was founded in January 2021 with the aim of discussing and coordinating research activities and sharing results concerning the integration of Remotely Piloted Aircraft Systems.
The panel is composed of representatives of the SESAR Exploratory Research projects URClearED, INVIRCAT and SAFELAND, as well as the Industrial Research project PJ13-W2 ERICA and the Very Large Demonstration project CORUS-XUAM.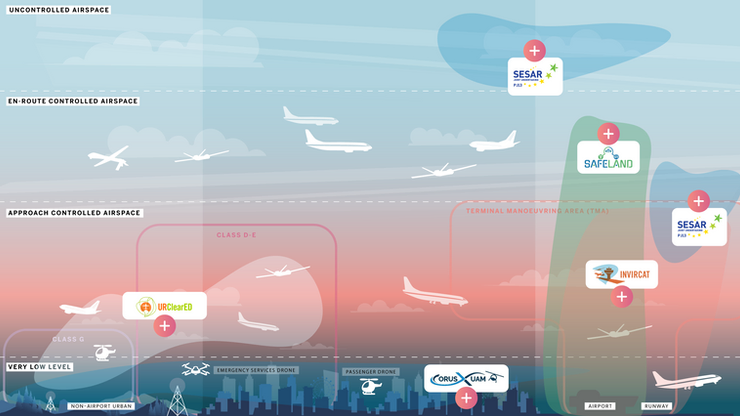 In particular, the panel was established to coordinate research activities, generate synergies, exchange and discuss results, with the broader scope of building a common concept that supports rule makers, standardization bodies, and the industry in decision making and the generation of harmonized standards.
Participation of the panel to SIDs 2021
The RPAS Projects Collaboration Panel participated in SIDs 2021 with a joint video presented during the poster session. We projected an animated video that  illustrates to the public the aim of the Collaboration Panel and shows examples of synergies among the projects. Furthermore, it presents each involved project through a dedicated concept image. 
Here you can enjoy the full video: 
SESAR Innovation Days
This year was the 11th edition of SESAR Innovation Days (SIDs), the main vehicle for SESAR Joint Undertaking to share progress and disseminate exploratory research results, on whom the SIDs focus explicitly. It has been organised annually since 2011 and has now become a landmark event in the European Aviation research domain.
The 2021 edition was held virtually, from the 7th to the 9th of December. This edition was based on an open call, soliciting contributions from the Air Traffic Management (ATM) research community. Further opportunities have been provided to learn about interesting projects and exchange experiences, thanks to exhibitions and posters, keynotes and virtual networking events.